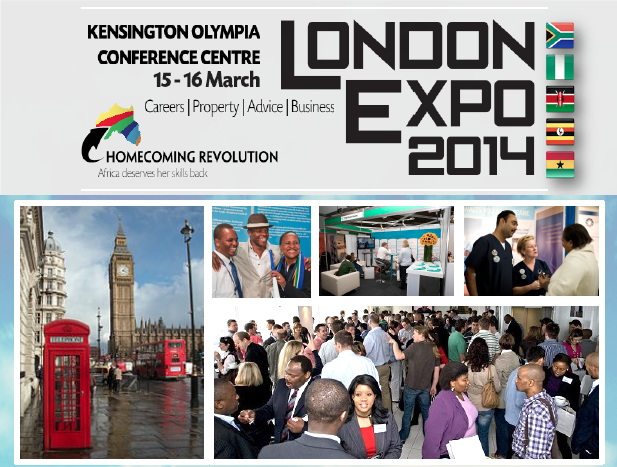 What?
This amazing event is for all skilled Africans in the diaspora who are wondering if they should return home.
Over a two-day weekend of Saturday 15th and Sunday 16th March 2014, the Homecoming Revolution London Expo 2013 is a one-stop platform to help you make that important decision to move back to Africa. Walk around asking key questions, connect with recruiters and businesses, hear inspiring speakers, attend practical workshops, and get advice and insights on moving back home.
The event will have identical format on both days.
With a focus on South Africa, Nigeria, Ghana, Uganda and Kenya, the expo will feature:
1. Many companies, recruiters and public organisations exhibiting jobs, schools, property, products, services, investments, services, investments, and entrepreneurial opportunities.
2. High profile guest speakers who will update, inform, educate and inspire you on various issues relating to African business, economics, politics and future scenarios in South Africa, Nigeria, Ghana, Uganda and Kenya.
3. Workshops: Relocation / Property / Investing / Careers / Entrepreneurship. For bookings, see below.
4. Inspirational video content and story-telling of RETURNEE CASE STUDIES
5. A fun day out for the whole family including music and cultural activities
Why?
Africa needs you and you need Africa. There are thousands of opportunities awaiting you in your homeland. Sub-Saharan Africa is poised for take off, requiring strong leadership, top skills and job creation. Now is the time to find out the real situation back home, and to listen to the drumbeat of your heart.
Who should attend?
The skilled African diaspora living abroad who are interested in the opportunities in their homeland, with a particular focus on South Africans, Nigerians, Ghanaians, Ugandans and Kenyans.
PLEASE NOTE THAT IN ORDER TO GAIN ENTRY INTO ANY OF THE WORKSHOPS, YOU NEED TO HAVE BOUGHT THE ENTRANCE TICKET OR WORKSHOP PACKAGES!
If you would like to register for a workshop, please click on the link below:
Times:
Saturday, 15th March: 9:00 - 18:00
Sunday, 16th March: 10:00 - 15:30
Previous comments from attendees:
"What a great event! I thought that your speakers were excellent; the topics discussed were interesting and relevant. The information relayed was positive, and has further cemented my plans for returning home."

"Excellent idea! We collated so much useful info and now can't wait to get our toes back on African soil."

"I've been back for a month and have already had an offer from one of the employers who showcased at the event."

"Good to be amongst positive yet realistic people who are passionate about home."

"The Homecoming Revolution event reinforced by decision to move home."

"A big confidence boost for our move back home next year."

"Thank you. This has helped me to put things into perspective."

"Meeting some great potential employers has definitely proved to me that I can build my career at home."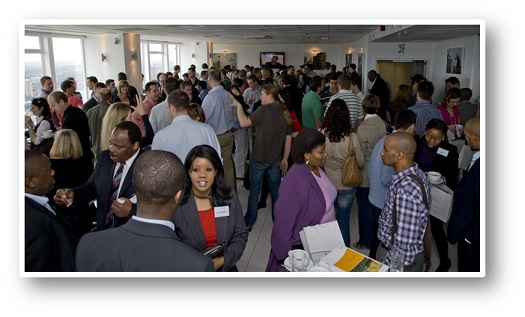 For more information about this exciting event, please visit: http://www.homecomingrevolution.com
If you would like to exhibit at the event or need further information, please contact us at info@homecomingrevolution.com
*Please print your ticket & proof of payment to produce at the door!
Do you have questions about Homecoming Revolution Africa LONDON EXPO 2014?
Contact Homecoming Revolution